Fox News, of course, has that as a
developing story
.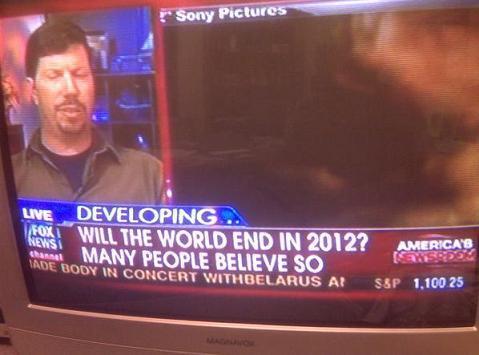 I mean, really?
Will The World End In 2012? Many People Believe So! Will Pop Rocks and Soda give you ulcers? Many Mythologists Believe So! Will Sarah Palin Grow A Single Functioning Brain Cell?
Many.... well, okay, bad example.
Will Fox Ever Make A Genre Movie That Is Not Insulting To Somebody With A Brain?
Okay, also a bad example.
Will Murdoch's Wall Street Journal Actually Stop Reporting Goldman-Sachs Sponsored Bullshit?
Darn, I just can't seem to get that whole "finding a similarly stupid thing" going today.
To quote the expert on all matters doomsday-related, Professor Hubert Farnsworth: "Good news, everyone! We're all going to die."
"Oh, no."
"In 2012"
"Yay!"
"But before Christmas."
"Oh, no."
"So no presents are needed."
"Yay!"